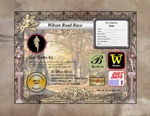 To the left is a sample of a free race commemorative. Click the image for an enlargement. The commemorative is 8 1/2″ x 11″ and fits a standard frame. They are presented in a PDF format. All your race statistics can be filled in on screen. They are available in male and female versions.
Click on your race to download your free race commemorative. If you do not see a link to your state/city/race, ask your race director to contact me and request that a commemorative be designed and made available for his/her next race. There is no charge. Every commemorative is personalized for each event.
If your race did not offer one of our free commemoratives and you would like to document your performance in any previous race with a photo personalized, archival commemorative, please click here.
Important Note: The commemoratives are in PDF format. Depending on which operating system you are using, the fill in feature may not work. I am using Windows 8.1. The generic PDF reader, for some reason, will not recognize the fill in option. If you cannot fill in the commemorative, save the PDF to your computer and open it with Acrobat Reader or Foxit Reader. Foxit is Free and an excellent reader.
States
North Carolina
Fayetteville
Cinco de Mayo 10K – 2009 Commemorative
Cinco de Mayo 10K/5K – 2012 Commemoratives
Cinco de Mayo 10K/5K – 2015 Commemoratives