Race Considerations
From a Running Veteran's Perspective
First I want to say that I know being a race director or organizer is a tough and many times thankless job.  I appreciate each one of you who puts on these events.  Racing has changed over the years.  Just look at the times that are being posted today.  Years ago races were organized for runners by runners.  Most had really unique awards – something to compete for.  Today, many organizers stage these events simply as a way to raise funds.  The fees have gone up, the quality, in many events, has gone down.  I mean $30 or more on race day for a 5K that has nondescript awards, bagel parts, and water.  Wow!  This of course is not the case with all races.  There are always exceptions.
I ran a race today, February 14, 2009, in North Carolina. I won't mention the name because the director and the assistant are very nice folks. The award was a small, generic medal. There were several young ladies who screamed for joy when they heard their names called. They were so happy to have won an age group award. I can recall that feeling, minus the scream.
It was almost thirty years ago when I won my first award. I'll never forget it. They were going five deep in five year age groups. I managed a fifth place. I received a small, generic medal. I was happy as a clam at high water. I don't know where that medal is today. I have it somewhere. I don't remember the race name, the date, the distance, or my time. Years down the road, these young women won't recall the race today in any detail either. They'll have a memory – that's about it. The medal will have long been relegated to the drawer or box. It's sad to see such a joyous moment be forgotten in time.
That's why I urge you race directors and coordinators to give serious consideration to your awards. Think about the runners and the race, and not just about the charity, if that's the reason for the event. Think about participants wanting to capture a memory. You may want to consider offering one of my free commemoratives to your participants. I offer my considerations on staging running events.
More on Medals

Common Generic Medal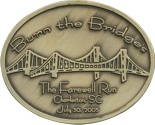 Custom Designed Medal

Custom Designed Printed Inlay
I want to clear up any misconception about my thoughts on medals. First, they are not all terrible. The custom designed medals for races like the New York City Marathon, Boston Marathon, and many other major races, are extremely nice collectable's. Many times you receive an official results certificate with these. But for small races, this option is financially unfeasible.
The first example is the generic, out of the catalog, medal. These are the ones that exemplify little thought about the award. Some include the name of the race and the date on the back, which is good. Some even include the age group, even better. Still, there's no time spent on the design. Everyone can see that.
The third medal shows a printed insert into a standard basel. This is much better. If you have a good artist, you can really get creative. This is a good option. The age group, race date, and other relevant information can go on the front as well. The reverse side could have inscribed a
Time: __________, AG Place: ___________, and OA Place ___________ . The recipient could have it engraved or write the information with a felt tip pen. The inscriptions would encourage the winner to fill in the lines, thus preserving the memory in more detail. This is a good option for smaller races.
The two issues I have are these. One, no matter how good they look, the ultimate destination for most medals is the drawer. Unless a person takes the time and spends the money to have the special ones mounted and framed like the collectors of challenge coins or sets up an easel or coin display holder, the medals eventually disappear from view. Ask your seasoned runners. Second, it may be more difficult to find a sponsor to cover the cost of the medals because they cannot receive the good will promotional advantage available on the T-shirts. That's one reason I designed my commemoratives. You can offer them a spot on the award or certificate. No matter which award you choose, and there are literally thousands of options, please take your future winners into consideration and design something special.
Twenty five years ago when I was racing in South Carolina and around the US I don't remember ever receiving a gift certificate as an award. Race directors came up with some unique commemoratives. I remember one race in Wilmington, NC that presented hand made pelicans. A racing buddy and I would drive 200-300 miles to race for unique awards.
Today it seems the gift certificate has become a staple. It's good advertising for the sponsoring store, and I assume it's easier for the race director to obtain these cards. A race promoter I know told me that only 60% of the winners pick up their gift cards and only half of
them ever use them.  I've read similar statistics on the Web.  Those that do use them may spend more money in the store to get a needed item.  The store seems to be the winner.  Gift card winners have no commemorative to cherish – only a memory.
I would suggest using the gift cards as an addendum to the overall and age group awards or as a door prize.  That way you have a double barrel advertising appeal when you promote your prizes.  You can focus on your unique award plus the added bonus of a gift certificate.
One thing I would like to ask of you while you're here. If you don't already do so, please offer a T-shirt option. Many of us veteran runners don't care about or need more shirts. Please consider these points.
If you have a T-shirt option, you will know precisely how many to order. You won't have any left over shirts to sell down the road. The event today had piles of leftover shirts selling for $3.00. Why get more than you actually need? It may be traditional, but from a marketing standpoint, the practice is questionable.
The entry fees could be lower for those who do not want shirts. A very welcome option.
Many race organizers charge a late registration fee and say they cannot guarantee a T-shirt. Or they give you some super size leftover because that's all they have left.  This is totally unacceptable. Late registrants are penalized twice if all the shirts are gone, or they get something they can't wear.
I hope most of you are aware of this, but I want to bring it up anyway. There are three things that every participant in your event deserves because they are paying an entry fee.
One: The course is accurate. Today that would mean certified.
Two: You have highly visible mile markers at every mile (even the last one).
Three: You have a working clock, accurate timing and results.
Sadly to say, many of today's race organizers, and even some directors, are not, and may have never been, competitors – at least not in running. A race I ran recently is a case in point. Someone from the field asked the assistant director just before the gun if there were mile markers. We shouldn't have to ask such a question, but there you go. That's something I never had to ask back in the day. The assistant said he was sorry, but he forgot to put out the markers. No organizer who has ever been a fervent competitor would forget the mile markers. This gentleman simply may not understand that many of us depend on those markers to pace the race. No mile markers and the race, for many of us, turns into a fast tempo run. Why pay for that?  And please, be sure your markers are in the right place.  I ran two races this month where the one mile markers were way off – at least 390 feet short.  What's that all about?
Mile markers are one of the easiest things to do. Go to a Lowes or Home Depot and buy some large, orange cones. Paint a corresponding number on the side and place them at the mile points designated on the course certification map. These cones are almost indestructible, they can be seen from a great distance, and they can be used year after year. And please place the final mile.
Many of us who use timing devices would like to know how our kicks are doing.
Many of today's events are being staged predominantly to raise money for causes. That's fine. But when the racer's needs are going to be left unattended, why spend charity driven dollars. Just call the event a fun run and don't bother with certification or electronic timing. You will retain more dollars for your cause. By including these elements, you have placed a race moniker on the event. Since we are paying for a race, we expect directors to respect the three aforementioned points.
Believe it or not, racers do critique these events among themselves. I know quite a few who have stopped participating because they were tired of the same old nondescript awards, lack of mile markers, starting issues, you name it. Eventually, race supporters will be predominantly recreational runners and walkers. I guess if organizers believe they can attract all the participation they need from that pool, then what I've said here won't make much difference. Many screams of joy will be long forgotten years down the road. That's sad.
There are still some well run events out there. I've identified many of them in North and South Carolina. Most, not all, of the awards are still nondescript. One of my favorites is an age graded race held in Winston-Salem. I recommend more of you think about trying that format to attract more runners. It presents a different dynamic.
Baby boomers are getting older. Many of us have been running for years. I meet more and more older runners who run races infrequently or have stopped all together because of the age group designations. Most of the smaller races use ten year age groups with the final one being 60 and over. A seventy year old usually cannot compete against a sixty year old, so they have quit competing.
If you aren't there yet, there is one thing you must understand. It gets more and more difficult to train and compete when you are 50 and over. It's hard for a 59 year old to compete against a 50 year old. It's even harder for a 69 year old to complete against a 60 year old. If you want to increase your participation, go to five year age groups with 70+ being your final designation.
I know older runners who will drive 100 miles to find a race that has five year age groups or a 70+ category. You want these participants in your race – right!
Work to get a sponsor(s) to cover the cost of your awards. Once that's achieved, you can do away with ten year age groups. That's if the cost of awards is the mitigating factor. I would guess that it is. My award option can help you get those sponsors.
If you can get the awards covered think about adding Masters, Grand Masters, and even a Great Grand Masters category. If you are fortunate enough to be able to offer prize money, don't forget about the Masters and Grand Masters.
If you are a non-profit putting on a race, or you are handling one for a non-profit, take advantage of any media outlet – radio,tv, or print – that offers free advertising to 501 c(3) organizations.  Many race organizers don't consider all their options.  And most important of all is your Web site.  I would say virtually all participants have access to the Web today.  Your site is the venue to really promote your race.  Promote the awards with photos.  Tell the folks about the post race food and drinks.  One race site made a video of their course.  That was great information.  Make your site look great!
The advantage of using your site for all the details is obvious. You can't get that much information on a double sided tri-fold.
If you use your site as the premier advertising medium, you can do away with the tri-fold.  You can use a 3.66″ x 8 1/2″ (1/3 of an 8 /12″ x 11″ page) double sided card.  If you're paying for the brochures, you can save some money or get three times the bang for your dollar.
The front would have the race name, logo, date, etc. along with an appeal to visit your site for all the vivid details. You could even list what they would see.  The back would have the sign up form and waiver.  Make sure your site has a prominent Tell A Friend link.  If your site lacks the professional look, seek out a volunteer who has that expertise.  Your Web site can be your greatest promotional asset.
Music
Did you ever think about having music along the course? There's a race here in Raleigh that's organized by a church. It's a 5K, and they have a band playing at each mile marker. Talk about being able to know when the mile marks are coming up. It's really nice. They have a band that plays for the post race festivities as well. There are probably many local groups, from high school to garage bands, that would donate their time for your event.
Volunteer Party
I'm sure some of you do this or have considered it – hosting a party for your volunteers. I've worked with a lot of thoughtful folks through my efforts to save the tiger. After a long weekend of work we would host a cookout to show appreciation for their time and efforts. The people who help make your event a success would appreciate special recognition. You may want to invite your sponsors as well. It will pay great dividends in the future.
Why do some races, even small ones, have wonderful post race food and refreshments? Why does one race have bananas and water and another have pizza, sub sandwiches, smoothes, soft drinks, energy drinks, power bars, and more? Once in a great while a race will even have beer. I don't have an answer for that.
I know a gentleman in Charleston, SC who took me on a run to a local super market to collect breads, pastries, and other items the grocery store was going to discard. All the items were fine, but they have a policy about turning over items. He used them for a fundraiser he held. We got shopping carts full of food. That's one avenue to consider for food.
It's always a pleasure to have something more than bananas, bagel sections, and water. Soft drinks are nice. If you can offer these, please consider at least one non-caffeinated option. Many of us do not drink or cannot tolerate caffeine.
At the award ceremony, after announcing the overall winners, consider starting the age group awards with the oldest age group and working down to the youngest. It helps the older runners to be acknowledged and encouraged by the younger people. And please, have your presenter announce the finish time of each award winner. Most runners I've spoken with want to hear their competitor's times.
In Conclusion
All of these options show the runners that you really care about their participation and continued support. Runners do recommend the best events. Why not make yours one we remember and promote. Thanks for reading, and I wish you all the best with your upcoming event.