Personal Archival Commemorative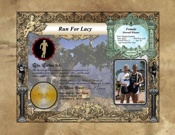 You ran your heart out that day. Maybe it was last week, last year, or a decade ago. You trained and trained. You ran a personal best and finally managed a third place in your age group. And for all your effort, you won a $10 gift certificate that may have netted you a pair of socks. Super! What a keepsake. I can help you remedy that faux pas. Click on images to enlarge. Whether you're a seasoned top competitor or a recreational runner, I want to offer you the opportunity to immortalize your achievements in an ornate, personalized, full color Archival Commemorative. Why not remember that moment for everyone to see? You don't have to win something to do it. The race photographers help runners remember events by offering more than photos. I purchased a rather nice printed mat for one of my race photos. It has the race time, the race name, the date, and location.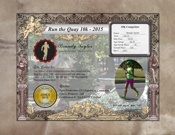 I designed these Archival Commemoratives because I wanted something unique and colorful to remember my participation in the 2007 National Senior Games – The Senior Olympics – held in Louisville, KY. I won the NC qualifying competition, but I could only manage a 5th place AG in the games – 19th overall. I received a small ribbon. Who knows, I may never qualify again. I began the design by obtaining a set of ornate musical score borders. The ornate borders came with high resolution, authentic parchment images, so I used one as a base paper. I then added areas for running information and certification. These commemoratives each have different areas for your race statistics. You can choose which one you like best. These commemoratives are printed on archival paper using fade resistant archival inks. The commemorative is then laminated using a 10 mil laminate. The commemoratives are 8 1/2″ x 11″ and will fit in a standard frame.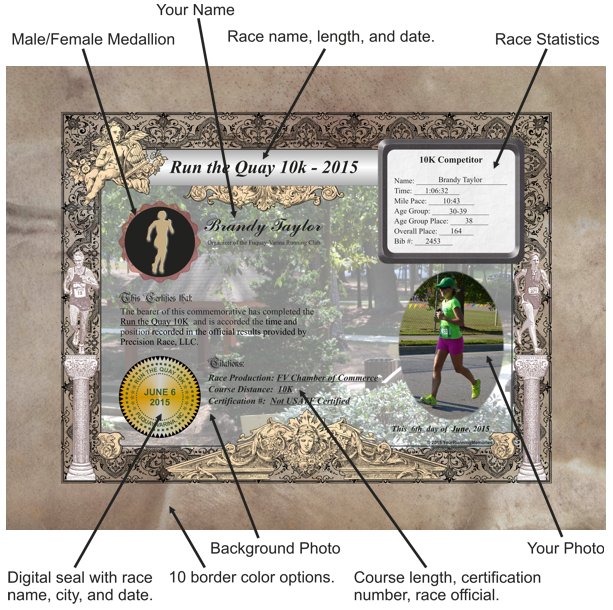 Color Options











(Click images for enlargements)
Print Methodology
I've been a graphic designer for some time, so I attempt to stay up to date on printing technology. My obsession for years has been print longevity. I believe a commemorative should last so people many decades in the future will be able to read about one's accomplishments. My initial intent was to use dye-sublimation printing on metal because I liked the idea of a metal commemorative. I spent two months testing different inks and printers via experts across the US. Every print was different. Some got close color matches while others were way off the mark. My combination of complicated vector graphics and raster images appeared to be more than the ICC profiles for the sublimation inks to handle. I was advised that the sublimation process had a hard time with gold and other colors. I still believe I could have used the dye-sublimation technology to produce a satisfactory result, but one fact remained. The dye-sublimation inks are more prone to UV degradation. I looked in to laser toners as an alternative, but there is a consensus that fading does occur in some colors. This was published on the National Archives of Australia's Website – "There is sufficient evidence that colour xerographed images do not last as long as black and white copies. Most international archival institutions do not recommend the permanent or long-term storage of colour photocopied or laser-printed material." The use of pigmented inks is the focus of most testing and research today in the print world. Using the right ink/paper combination produces archival quality prints with longevity ratings surpassing 150 years. Lamination, approved for some papers, increases that life span. Based on Wilhelm Imaging Research I use Epson Matte Paper Heavyweight and Epson UltraChrome Hi-Gloss™ Inks. I then use a 10 mil thermal laminate to simulate the look of a metal commemorative. Framing can be done without using a mat or glass. This Epson paper is approved for thermal lamination. The end result is a fine art, archival quality commemorative that will last for many, many decades. I want you to have the best for the money you spend.
Your Personal Memory
A visual record of your accomplishment will be passed down for generations. I can produce your Personal Memory for $35.00 plus $4.95 shipping & handling. Send me your contact information using my contact form, and I will get back to you with particulars.