Savage Thoughts
On Running and Other Matters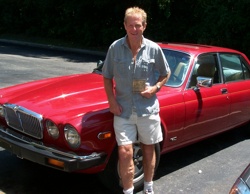 My thoughts on running. Here is what I wrote back on July 26, 2011.
"I just started this blog today. My pseudonym is Jason Savage. I have been using it in business for more many years. All the runners know me by my given name – Glenn Dennis. I use my given name on race registrations so my old friends will know me when they see results posted on line or in the Running Journal.
Continuing with My Thoughts

I will be sharing my history as a runner and avid road racer. I will also touch on the subject of injury and the issues of dealing with them as one gets older.
I will be heading to Charleston, SC this weekend to attend a very dear friend's, Coralie Leonard, 99th birthday party. I'm looking forward to that as well as having a few beers with my old British running buddy, Keith Ambrose, pictured here. A couple of geezers pouring down a Guinness. I took that photo when we met in Wilmington, NC and ran the Tri-Span 10K on July 8, 2006. More later."
My sister, Valli Louise Dennis Schieltz, passed away on the morning of June 29, 2015. She fought a courageous battle against cancer, but it finally took her life. She was sixty-four years old. This photo of Val with her doll was taken outside a home on Harvard Road when we lived in Winston-Salem. That street was only one block over from our house. Val loved her dolls when she was growing up. It was a blessing for me to be able to edit her books and get them into print before she passed. She received proof copies several weeks ago. It seems like only yesterday when we were playing together at our grandmother's home in Elizabeth, NJ. It's almost unbelievable how fast time passes. Before you know it, loved ones are gone, and we are left with only memories. Val's book, Valli's Valley, contains a lot of photos, including some of our grandmother's magnificent home. Clink the link and get one or both of her books. You can also find a link to her books on her Web site. I will maintain her site as a tribute to her life. I will miss not hearing her voice and receiving her weekly calls. She is now without pain in her new home. Thank you for being a wonderful sister. God bless... read more