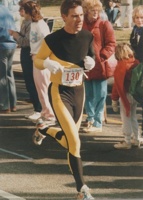 I want to give you a little background so you might get a little better understanding as to why I am the designer of the Personal Memory. You may also want to read my CV.
That's me on April 4, 1987 running in the Cooper River Bridge Run, an extremely popular 10K held in Charleston, SC. That day it was bitterly cold with a tremendous headwind. If your not familiar with this race, it is now a world class race and one of the largest on the East coast. 2009 will limit entries to 40,000.
In 1987 I ran a 35:40:56, good enough for 63rd overall. That was my Bridge Run PR. The 29th annual event was held on April 1, 2006. I was fortunate enough to run a 39:29 which was good enough to win the 55-59 age group (1,165 competitors). I was 219th overall in a field of 33,596. I began running in 1978 at the behest of my girl friend. I played soccer in college, but I never did any track or road racing. My first race was a two miler that was held on Folly Beach, SC. They had a water station at the one mile mark. When I got there I thought I was going to die. I made it to the finish, but needless to say, I didn't win any award. After that austere beginning I decided to try to make a go of the sport. I've kept at it now for 33 years. Following are some of my other memorable races and times.
| Date | Race | Time | Age |
| --- | --- | --- | --- |
| March 2, 1985 | Aiken Triple Crown, Aiken, SC – 2 miler | 10:31 | 35 |
| December 14, 1985 | Island Marathon, Mt. Pleasant, SC | 2:49:31 | 36 |
| December 7, 1985 | Jolly Folly 10K, Folly Beach, SC | 34:14 | 36 |
| November 28, 1985 | Turkey Day 5K, Charleston, SC | 16:26 | 36 |
| November 23, 1985 | Charlie Post Classic 15K, Charleston, SC | 53:52 | 36 |
| November 9, 1985 | Conway 5 Miler, Conway, SC | 26:30 | 36 |
| November 22, 1986 | King Street Mile, Charleston, SC | 4:48 | 37 |
| April 4, 1987 | Cooper River Bridge Run, Charleston, SC – 67th Overall | 35:40:56 | 37 |
| June 9, 1990 | King Street Mile, Charleston, SC | 4:58 | 41 |
| June 8, 1991 | King Street Mile, Charleston, SC (3rd Overall Masters) | 4:56 | 42 |
| December 4, 2005 | Dash for Cash 10 Miler, Greenville, NC | 1:04:09 | 56 |
| March 25, 2006 | Habitat for Humanity 5K, Greenville, NC | 18:45 | 56 |
| April 1, 2006 | Cooper River Bridge Run, Charleston, SC – 1st AG | 39:29 | 56 |
| June 30, 2007 | Senior Olympics, Louisville, KY | 19:16 | 58 |
| August 11, 2007 | Pitt Street Mile, Mt. Pleasant, SC | 5:42:67 | 58 |
| July 4, 2009 | Tour de Carrboro (NC) 4 Miler – New AG course record. | 25:16 | 60 |
| September 13, 2009 | Magnificent Mile, Raleigh, NC. | 5:48 | 60 |
The Senior Olympics really got me motivated about awards. Back in the day, oh 20 years ago or so, many races presented really nice awards. Some were unusual and coveted, like the large Kiawah pelicans. Race directors put some thought and effort into awards runners would like. It has been my good fortune to win my share. Many of the older ones are unique keepsakes. Most of the ones I've collected in the past five years can go in a drawer – forgotten. I would like competitive racers and recreational runners to have a keepsake they can look back on decades down the road and remember their achievement.
I took a nine year hiatus after running the 1996 Boston Marathon. I was burned out mentally. I kept up limited mileage over the years, but I managed to balloon up to a whopping 195 pounds. My metabolism had slowed, and sitting behind a computer didn't help. In late December of 2004 I took a good look in the mirror – not a pretty sight.
I broke a few training rules, but I upped my mileage and lost 45 pounds in four months. I then started racing again.  Somehow during that layoff the awards went down the tubes. There was an abundance of cheap medals, water bottles, gift certificates, and donated clothing. On top of that the registration fees were going through the roof. Many of the 'race directors' had never run a race in their lives. Have you run any races lately without seeing a mile marker? There were a few races where the directors, veteran runners themselves, devoted much thought and planning into executing a good race and providing respectable awards.
I believe paying $25 ($30 late registration) for a 5K is pushing the limit. The registration fee for the Senior Olympics 5K was $125. The top three in each age division received medallions. Fourth through eight got small ribbons. The medallions were OK, but they could have been better. That's why I've been working on a new design that I will be presenting to the steering committee. And the ribbons. What can I say. If they are going to present something to 4th – 8th place, at least make it something worth having.
That day I only managed a 5th place in the age group, so I was awarded a ribbon. When I returned to Raleigh I began designing an award to commemorate my running in the Senior Olympics. Who knows, I may not qualify for another games. I started with a set of ornate music score borders. The example above represents a commemorative for a fictional race. It incorporates all the pertinent information along with a memorial rendition. It's an 8 1/2″ x 11″ archival quality, laminated print that fits in a standard frame. It looks very nice on my wall. I thought runners who would like to commemorate a special event may like this option, especially those who may not be fortunate enough to win awards.